RUFUS TUREEN
Moderne Man
March 16 - April 15, 2019
Opening Reception: Saturday, March 16, 6-9PM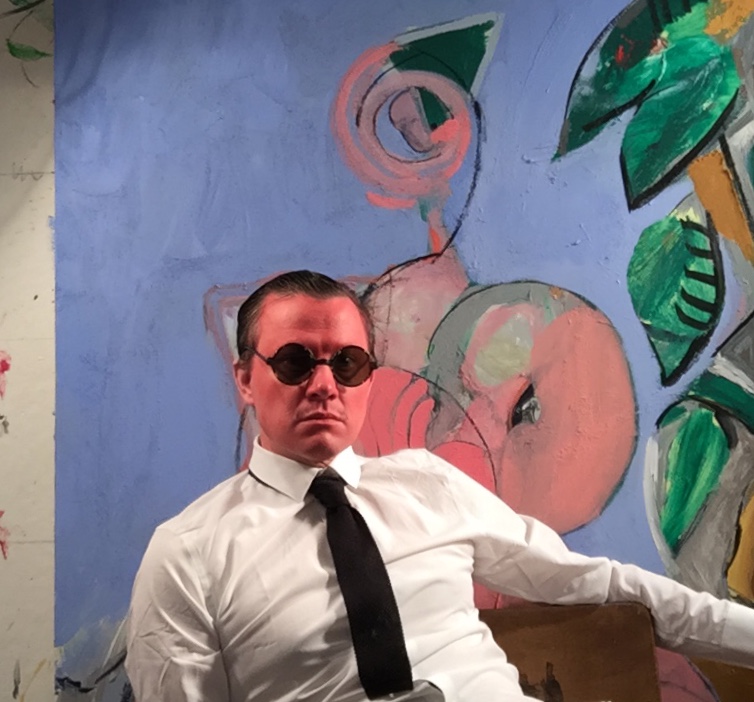 Imagine that time is infinite. Image time as a line that stretches out in either direction forever, our experience of time in this case is a single moment in which we experience change, but that is entirely unmoving. Living becomes a matter of perspective rather than pursuit. What can we see from this vantage point in the change all around us, what moment is our foot lingering in while our eyes look at a face. In the moment that hinges and becomes the past you are seeing the future, the time is the thing that is happening not the passage, the passage never happens. -Moderne Man

An examination of the role of masculinity and transcendence in painting. Moderne Man completes a loop with Olde Man, Tureen's show in Essex Flowers project space this past October. Using methods of experimental theater and trance, Rufus Tureen makes work routed through assumed psychological states that are documented in the form of paintings, videos, photography and text. Tureen's characters are both historical and ahistorical, personal and archetypal, serious and ridiculous, he uses them as conduits of questions, sounding boards and mirror.

"I look at art history diachronically, as a layering of change, analogous to geological processes, especially that of metamorphic rock. Time capsules of sediment twisted smashed and boiled by cataclysm and their own weight, cooled and spread out before us, mappable in space and time, sectionable, reachable, infinitely redefining its potential to summon things to matter." -Rufus Tureen


Rufus Tureen lives and works in New York. He has performed at The Kitchen with Courtesy The Artist, Five Myles Gallery, Dixon Place, Present Co., Essex Flowers and CANADA gallery, and at the Edinburgh Fringe Festival. He has shown paintings in Barranquilla Colombia, in Portland Maine at Lewis Gallery and in New York at Janet Kurnatowski Gallery and Essex Flowers. His next show will be in Shanghai in April 2019 with ArtMinusOne. He has a BA in Art Semiotics from Brown University and an MFA in Painting from Hunter College.









ELISA SOLIVEN
Totems and Views
March 16 - April 15, 2019
Opening Reception: Saturday, March 16, 6-9PM




Essex Flowers is pleased to present, Totems and Views, a solo exhibition by Elisa Soliven.

In Totems and Views, Soliven builds upon previous themes and methods of working with an installation of new works created for Essex Flowers. Over the last several years, Soliven has steadily produced a body of sculptural, ceramic work she refers to as "vessels." To make her vessels, she developed a singular hand-building process. Each vessel is built around a gridded clay scaffolding, a support system that is practical as well as aesthetic, since it creates the vessel's characteristic angular, modular forms. Within the gridded framework of the vessel is another element that determines its shape: irregular pieces of fired ceramics of various color, shape and size are interspersed within the grid. Clay is then intuitively layered around the grid and recycled ceramic, eventually accumulating into its final form. Soliven's process is both subtractive, similar to an archaeologist, excavating around "fossils", and additive as an architect, building out from an infrastructure. The archaeological reference is furthered by the surface textures of her work, as if she were preserving a frozen history of gestural mark-making. For Totems and Views, Soliven continues her singular vessel form, but amplifies their presence and figurative qualities by stacking them into a shape that proposes at once a totem, a standing body, and an exquisite corpse. More than a process, her method becomes ritualistic for making a talisman out of the ordinary.

These totems are paired with a new series of modular wall pieces titled Window Fruit. The modular parts of Window Fruit are generated by pressing and molding clay into the gridded framework of an actual window, an application that echoes the structure of the vessels. The recycled, mosaic pieces and slip casts of fruits are incorporated into the panes of the ceramic windows. The various fruits placed throughout the frames serve a dual purpose. Formally, they add variations of color and form to the overall abstract nature of the window shape. Symbolically, they create an atmosphere of domesticity and a surreality of the everyday. A paradox arises from the material and the symbols—the frames create a view as if into another realm, while simultaneously being refused by the dense materiality of the clay. The sculptural wall works operate on another level as well, simulating an interior/exterior environment that gives them a sense of place and houses the figurative totems into a scene.

Elisa Soliven, born in New York City, lives and works in Brooklyn, NY. She received an M.F.A. from Hunter College and a B.A. from Bryn Mawr College. Her work has been reviewed by Two Coats of Paint, Art Critical, and Hyperallergic. She has shown at Nudashank, Baltimore; Sardine, Brooklyn; Present Company, Brooklyn; LABspace, Hillsdale, NY; Crush Curatorial, NYC; Spring/Break Art Show, NYC; John Davis Gallery, Hudson, NY; Andrew Rafacz Gallery, Chicago, IL; among others. She is also a co-founder of the Bushwick based artist collective, Underdonk.