POONEH MAGHAZEHE
Middleman
Opening Reception: Fri, Sept 2, 6 – 8pm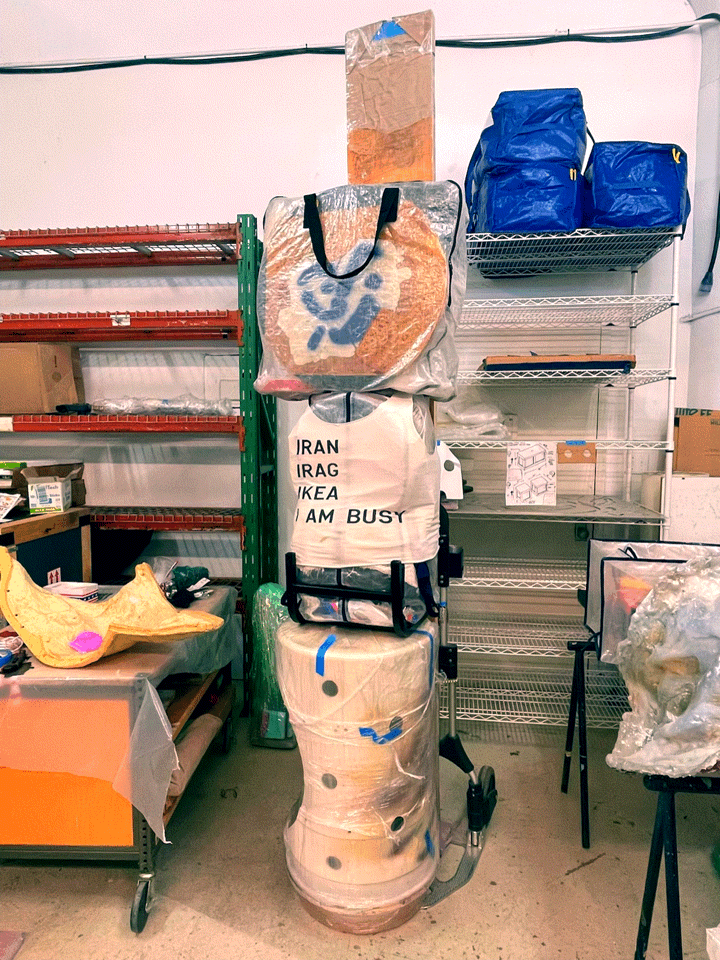 Pooneh Maghazehe, Middleman, 2014- ongoing, mixed media, dimensions variable


Essex Flowers presents "Middleman", a bricolage by Pooneh Maghazehe.

A broker or manager is typically the unseen middleman who sells assets or dispenses information between entities. Following this thought, "Middleman" brings together the disparate, nameless parts of any number of works already made, yet to be made, or possibly never made. The components, still packed or wrapped, are held in place interdependently by the resistance of a ceiling jack.

Pooneh Maghazehe is a sculptor based in Brooklyn, NY. Maghazehe's artistic process mimics the ideas that drive her work. Signifiers appear in material explorations, serving as a key into the conceptual framework of the sculptures. Maghazehe's work has been exhibited at CPM Gallery, Marinaro, The Pit, Kathryn Brennan Gallery, Stepsister, and A.D. Recent solo exhibitions include "Half-Life" at KinoSaito Art Center in Verplanck, NY and "2for1" at Kathryn Brennan Gallery in New York, NY. Her work has been reviewed in Artforum, BmoreArt, Contemporary Practices, & Magazine 1. Maghazehe received an MFA from Columbia University in 2011.