Say it with flowers: Essex Flowers Solo Exhibition Open Call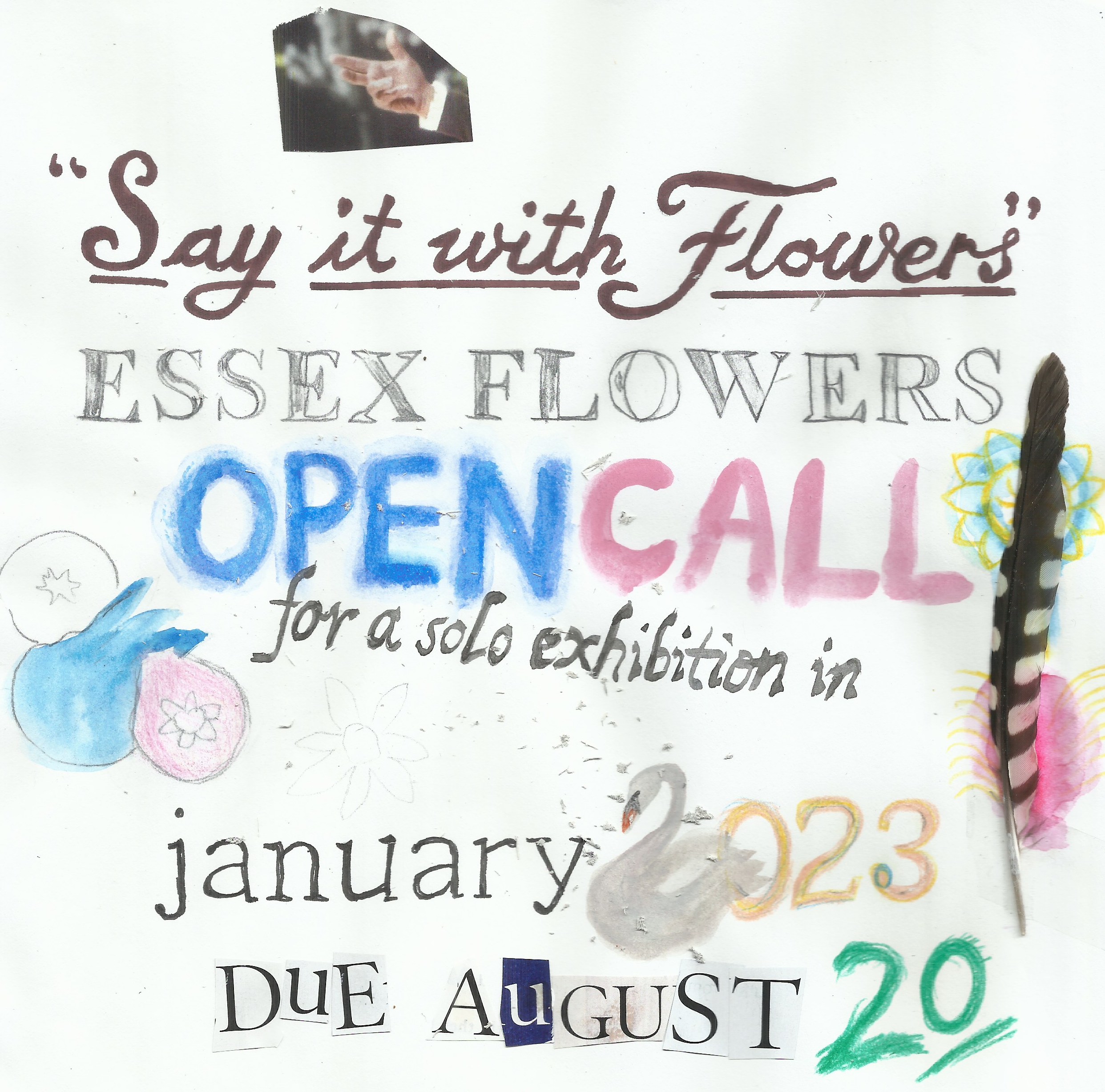 Essex Flowers is pleased to announce its first open call for solo show proposals for an exhibition to take place January 6 - February 4, 2023.

Deadline for submissions: August 20, 2022

Notifications of results: By November 15, 2022

Application fee: $20
Please send the fee using Zelle and Paypal (if Paypal, send as a "friend"). 100% of the $20 application fee supports Essex Flower's programs and operating expenses. If this fee poses a hardship, please contact info@essexflowers.us to request a fee waiver. We will not look at applications without either a fee or waiver.


Who We Are

Essex Flowers was founded as an artist's cooperative in 2013 in the basement of an eponymous flower shop on Grand Street in NYC. In our permanent gallery location at 19 Monroe Street, Chinatown, we expand our mission to support emerging and underrepresented artists through exhibitions and performances. Our programs reflect our commitment to our values of access, diversity, equity, and inclusion, and to the presentation of work that is undervalued in the commercial sector.


What the Finalist Receives


● One-month solo exhibition at Essex Flowers
● Opportunities to develop related public programming
● Opening reception
● Press materials, PR support, and promotions on social media
● Support staff for installation and de-installation
● Photo documentation of the show, and permanent archiving on Essex Flowers' website
● Important: please note that delivery and return shipment of work is the artist's responsibility.


Eligibility


This opportunity is designed to serve under-recognized professional visual artists of all disciplines.
You qualify if:

● You are not currently enrolled in a degree program.
● You have demonstrated a committed studio practice outside an academic setting for three or more years.
● You currently live and work in the United States.


Selection Process


In the first stage of review, all applications will be screened for eligibility. In the second stage, an anonymous selection panel of Essex Flowers members will select a shortlist of applicants to proceed to the final round. The initial selection panels will remain anonymous; the last selection panel will remain confidential until the finalist is announced.


Submission Guidelines


Please combine the following materials into a single PDF file, no larger than 10MB:
● Resume / CV with all contact information, 2 pages max
● Narrative Bio – up to 200 words
● 350 words max — description of artistic practice and/or proposal for this exhibition
● Please indicate whether you would like your work to be considered for a small group show in our rear gallery, if it is not selected for the solo show opportunity in our front space
● Work samples:

○ Up to 8 images, captioned with title, year, medium, dimensions



○ For video and time-based works, please provide up to 4 URL links. Please reasonably

edit/format for panelists' viewing or provide a cue point in your notes.

● Email submission to info@essexflowers.us, w/ subject heading "Your Name, Open Call Submission 2023"
● Important: please note that all submitted applications will be considered final. Incomplete or duplicate applications will be disqualified.