THE BODY-SPLIT TRICK
Curated by Melissa Brown
October 3- October 24, 2020
Preview: Friday, October 2 4pm-8pm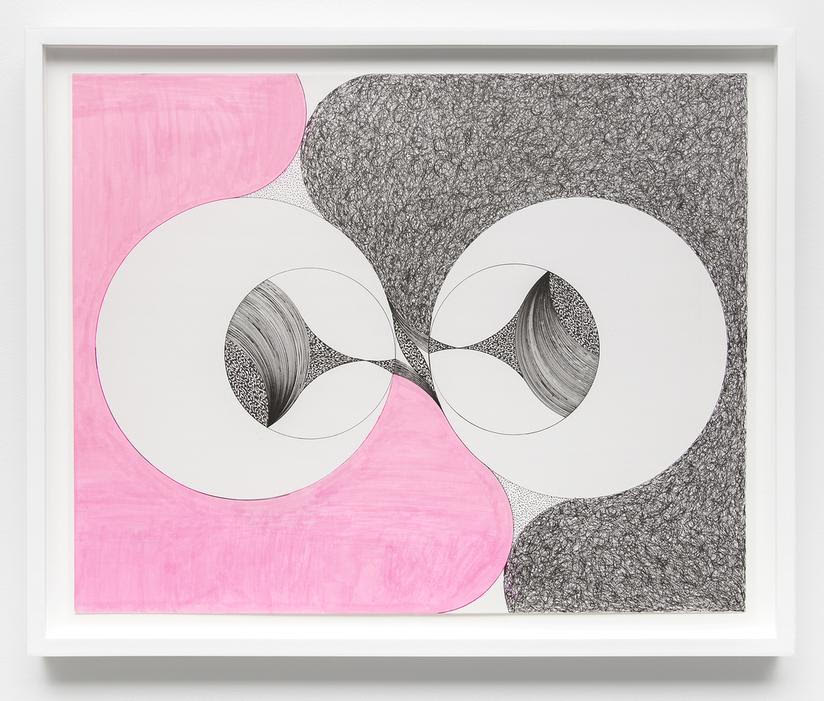 Sanou Oumar, 2/14/17, 2017. Pen and marker on paper, 18.75 x 23.5 in (paper size)


Art and magic share the goal of changing reality, either by aesthetic presentation or by the ritual manipulation of nature. Both are also methods for extending one's power of influence by presenting alternate visions for how the world can be looked at. Process is key for both. There are spiritual rituals and there are artistic rituals and in many cases they mechanically overlap. What are some of these methods for changing reality? Presented here are several artists who do this by binding, duplicating, mirroring, fusing, meditating, and conjuring. Each presents us with a new way of looking at what we think we already know.

Jennifer Paige Cohen's clothing and plaster formed sculptures trace the movements of its wearer – cradling, compressing, conforming, as a body moves through space. Body and garment share an empathic synergy, and Cohen's cast sculptures regenerate and mirror this intimate relationship. Each sculpture is an indexical shell that records a moment in time, the shape of a body and a piece of clothing's colorful pattern.

Michael Mahalchick's prop closet is filled with materials that have randomly wandered into his life: found objects, offerings, and leftovers. What is important is their material history, their mystique, and their remaining aura from a past life. He makes latex skins cast from candy boxes and treat containers. As doppelgangers, they are gift ghosts of affection, true love, friendship, and indulgences.

Kristin Meyers's sculptural process of "binding" found objects as figurative sculpture is informed by her Calabrian-Italian folk heritage. In the tradition, binding is used as a method for transferring energy. Meyers, who has studied vast categories of energy systems, collects found objects based on their perceived energies and the residue of human imprint left in them. She employs a unique process of "fermentation," during which she bundles groups of objects for a long period of time, allowing their energies to meld. After fermenting, she builds a new body, balancing and then wrapping the objects. This is a way of creating a new being.

Sanou Oumar's intricate drawings can be viewed as schema for imagined, other-worldly architecture. They function as meditation machines that transport both artist and viewer to a more spiritual realm. Oumar himself describes his daily drawing practice as a form of meditation. He uses personal affects: a New York Identity card, oddly shaped clothing tags, milk bottle-tops, etc., as mechanical drawing templates that guide pens, color pencils, felt-tips to create geometry from repetitive marks, which are representative of profound, inner experiences.

Keisha Scarville's photographs conjure presences, and these presences present themselves in a double existence. Her patterned presences are both of the landscape and also are the landscape, visually demonstrating that place and body are inextricably linked. Her photographic process is akin to ritual practices of Caribbean diaspora, which often connect ancestral influence with geographic location, unbound by chronological time.

Jeff Williams creates Frankenstein bodies fused from aluminum castaways; pieces may have been scrapped, resurrected, rescued or gifted. Aluminum enjoys a unique status as the high-low of metals. It transcends class - appearing as both foil to wrap food scraps and in NASA space probes that explore our galaxy. In William's sculptures, these discarded remnants of the military-industrial complex come together along cartoonishly welded, scarified lines, forming new bodies whose parts run the gamut of origin stories.