DOOR #3
Maria Calandra, Billy Grant and Michael Pool
Curated by Melissa Brown
May 24 - June 23, 2019
Opening Reception: Friday, May 24, 7-9PM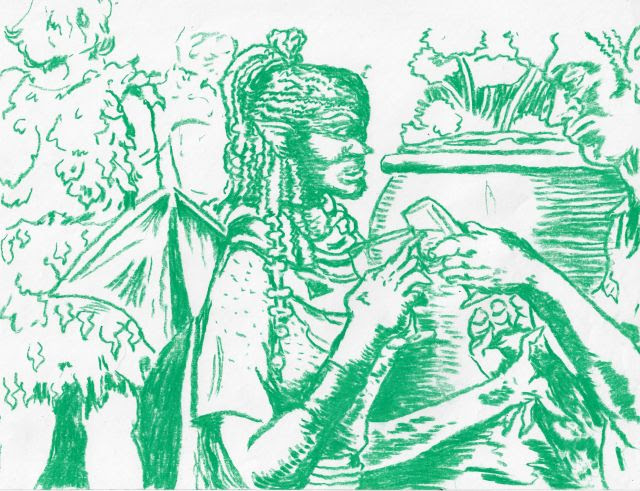 Maria Calandra is well known for her drawings made for her on-going project: Pencil in the Studio, which document her visits to artist's studios, and her visits to art collections. Her objective and observed drawings catalog her travels and conversations. Outside of this practice, she draws from imagination. Her drawings of imagined spaces and vistas often include animals, hawks, forests, clouds, rivers, mirrors and patterns. Her chiaroscuro drawing style represents what might be termed as the ether, giving form to air and space. Additionally, her drawings are scalable. Some are intimate pocket sized reflections and other drawings are mural sized. Presented here is a temporal mural, lasting only the length of the show.

Billy Grant is a painter whose unhinged and idiosyncratic vision is immediately evident. Presented here are a series of monochrome, chalk drawings which are eerily specific. A man in a powdered wig tends the bedside of a woman wearing an evening dress; a winged girl clinks champagne glasses at a garden party; a prehistoric mongoose attacks a snake; a bald-headed batman rears up on a log. These quickly drawn, but fully realized one-offs collage familiar scenes and characters from a vast spectrum of cultural residue. They begin as possible ideas for paintings, but each chalk drawing feels like a transmission - a single frame randomly selected from an epic, bizarre story.

Michael Pool is best known on the airwaves, in pirate radio, for underground poetry, as the DJ, host and organizer of The Audio Kitchen on WFMU. He was a curator of everyday existence, a collector of discarded answering machine tapes, kid's interviews captured on cassette, dictations on reel to reel and found, digital snippets. Upon his recent and untimely passing, notebooks of drawings in spiral books were discovered as an additional part of his oeuvre. For years, in addition to writing and sound curation he made drawings. His drawings harken to counterculture favorites like Zap comix, but mostly reveal his satirical, creative persona and his long-standing interest in human characters. His drawings are exhibited here for the first time.