RUFUS TUREEN
Moderne Man
March 16 - April 15, 2019
Opening Reception: Saturday, March 16, 6-9PM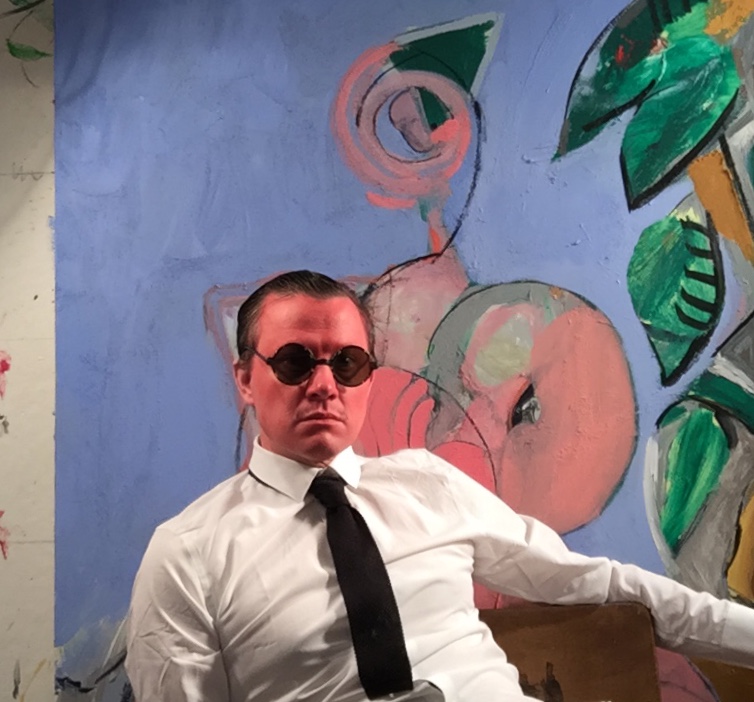 Imagine that time is infinite. Image time as a line that stretches out in either direction forever, our experience of time in this case is a single moment in which we experience change, but that is entirely unmoving. Living becomes a matter of perspective rather than pursuit. What can we see from this vantage point in the change all around us, what moment is our foot lingering in while our eyes look at a face. In the moment that hinges and becomes the past you are seeing the future, the time is the thing that is happening not the passage, the passage never happens. -Moderne Man

An examination of the role of masculinity and transcendence in painting. Moderne Man completes a loop with Olde Man, Tureen's show in Essex Flowers project space this past October. Using methods of experimental theater and trance, Rufus Tureen makes work routed through assumed psychological states that are documented in the form of paintings, videos, photography and text. Tureen's characters are both historical and ahistorical, personal and archetypal, serious and ridiculous, he uses them as conduits of questions, sounding boards and mirror.

"I look at art history diachronically, as a layering of change, analogous to geological processes, especially that of metamorphic rock. Time capsules of sediment twisted smashed and boiled by cataclysm and their own weight, cooled and spread out before us, mappable in space and time, sectionable, reachable, infinitely redefining its potential to summon things to matter." -Rufus Tureen


Rufus Tureen lives and works in New York. He has performed at The Kitchen with Courtesy The Artist, Five Myles Gallery, Dixon Place, Present Co., Essex Flowers and CANADA gallery, and at the Edinburgh Fringe Festival. He has shown paintings in Barranquilla Colombia, in Portland Maine at Lewis Gallery and in New York at Janet Kurnatowski Gallery and Essex Flowers. His next show will be in Shanghai in April 2019 with ArtMinusOne. He has a BA in Art Semiotics from Brown University and an MFA in Painting from Hunter College.